A deadly drug — sometimes in disguise
Introduced more than 50 years ago, pharmaceutical fentanyl is a man-made opioid sometimes prescribed to treat severe and/or chronic pain.1,2 But this isn't the kind of fentanyl you're hearing about in the news these days. Illicitly manufactured fentanyl, the illegal form of the drug, is up to 50 times stronger than heroin.3 It's also believed to be the main reason for the recent spike in opioid overdose deaths in the US.3,4
No one plans to come face to face with a deadly opioid overdose situation, but it happens every day.3 Be prepared to save a life and carry a life-saving naloxone medication like Kloxxado® (naloxone HCl) nasal spray 8 mg.5
Dangers of illicitly manufactured fentanyl
The surge of illicitly manufactured fentanyl flooding this country is driving a lethal new phase of the US opioid epidemic.1 And it takes just a tiny bit to end someone's life. Just 2 mg of fentanyl – the amount shown in the photos below – has the potential to cause a deadly overdose.5
As fatal overdoses reach record-breaking levels, it is important to remember that each one of us has the power to potentially save another person from a deadly fentanyl-related overdose.1-3,6 How? By being prepared for an opioid overdose emergency and carrying a lifesaving naloxone medication like Kloxxado® (naloxone HCl) nasal spray 8 mg.6
A lethal dose of illicitly manufactured fentanyl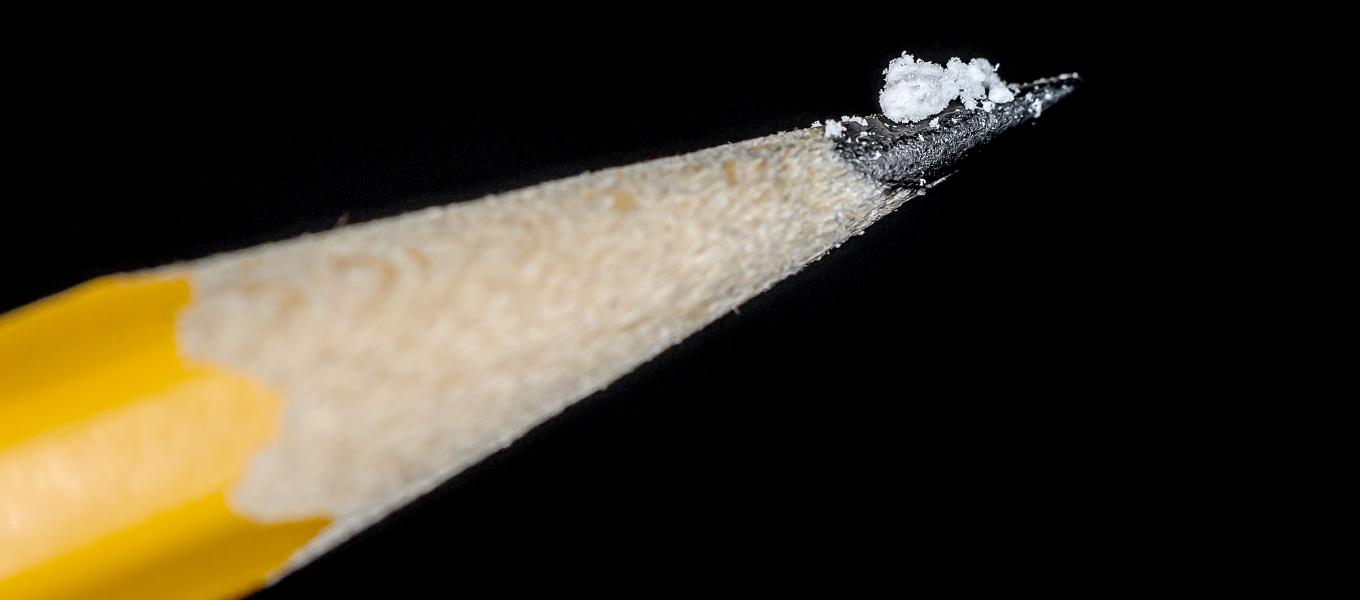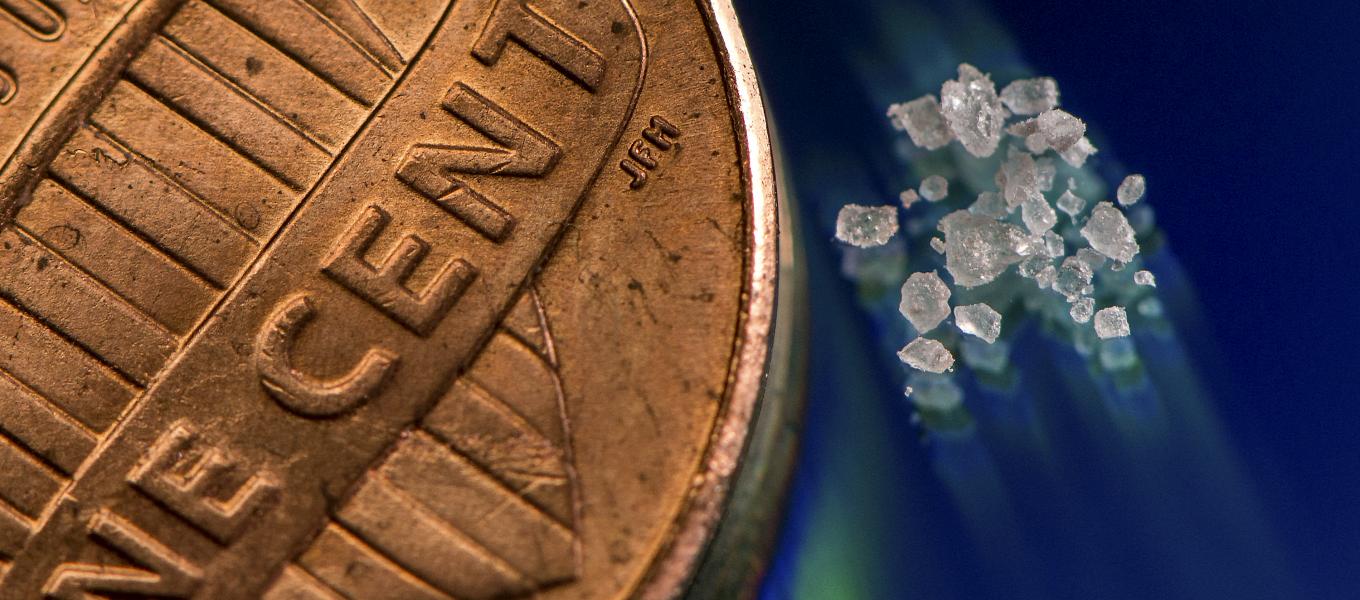 The images above are used with permission from the United States Drug Enforcement Administration (US DEA).5
Counterfeit, contamination and the future of illicit opioids
Counterfeit pills
Criminal drug networks are mass producing and distributing "fake pills"—counterfeits of prescription opioids such as oxycodone (Oxycontin®, Percocet®), hydrocodone (Vicodin®), antianxiety medicines like alprazolam (Xanax®) and stimulants/amphetamines (Adderall®)—with the intention of deceiving the American public.7
Think you can't be fooled? See if you can tell the difference between the real and counterfeit prescription drugs below.7
Oxycodone (eg, OxyContin®)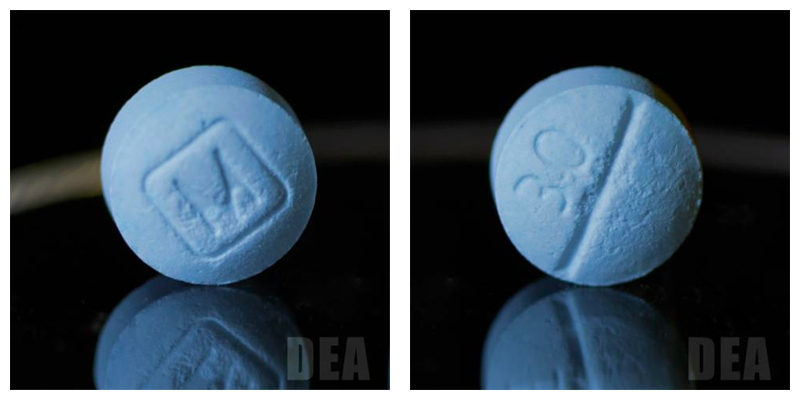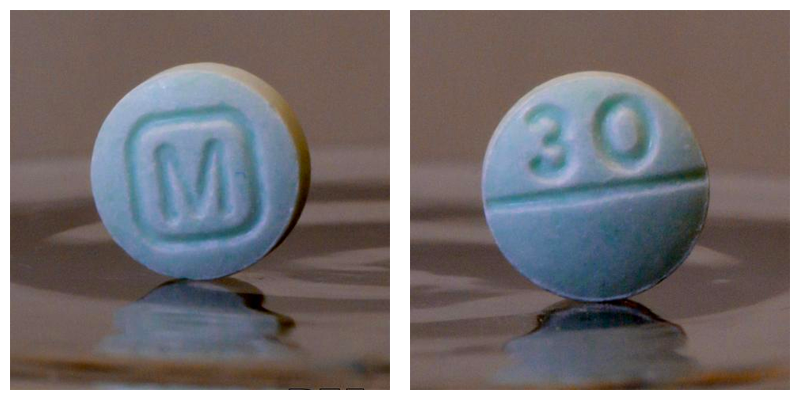 Alprazolam (eg, Xanax®)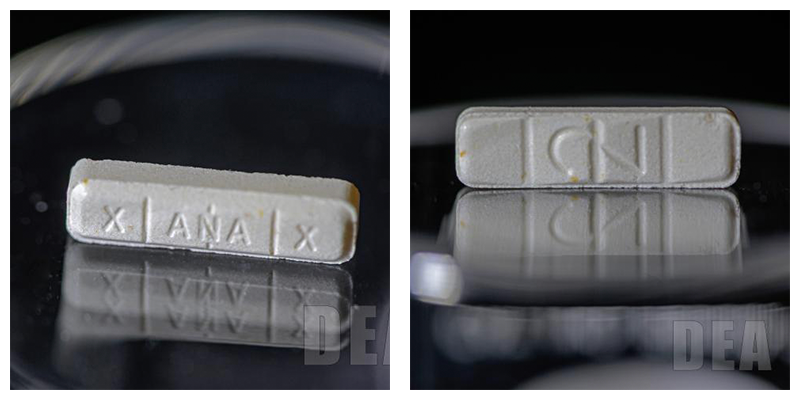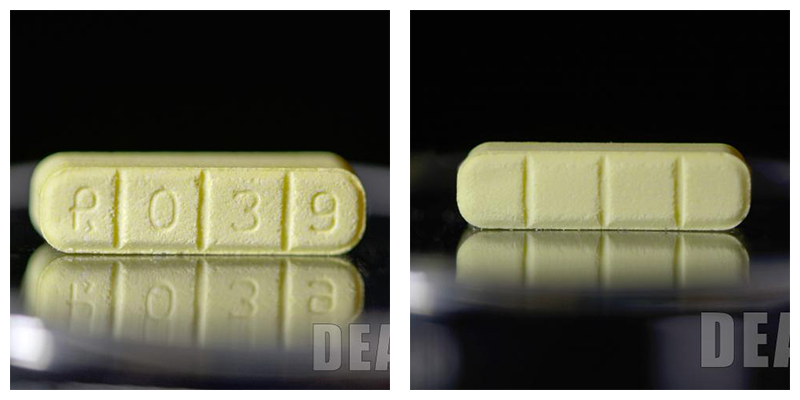 Stimulant (eg, Adderall®)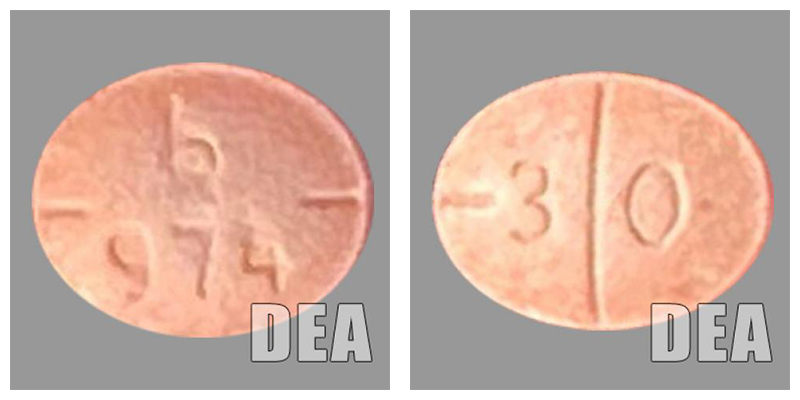 The images above are used with permission from the United States Drug Enforcement Administration (US DEA).7
These are just examples and do not represent the endless varieties of fake pills currently available. Never trust your own eyes to confirm that a pill is legitimate. The only safe medications are those prescribed by your doctor and dispensed by a licensed pharmacy in a container with your name on it.7
Fentanyl contamination
Drug dealers also sometimes mix fentanyl in with other illicit drugs, like cocaine and methamphetamine and other stimulants, without the user's knowledge.3,8 Some of them do this not only to "stretch" their inventory, but also to create a final product that is more addictive.9 This means that all drugs are potentially deadly because they could contain lethal amounts of fentanyl.3,8,9 According to the Centers for Disease Control and Prevention, more than 150 people die each day from overdoses where synthetic opioids like fentanyl were involved.3
The DEA Laboratory recently found that, of the fentanyl-laced fake prescription pills analyzed in 2022, 6 out of 10 contain a potentially lethal dose of fentanyl.7
The next wave of illicit opioids
Fentanyl overdose
Fentanyl is one of the most common drugs involved in overdose deaths.3 It takes up less space than other opioids (like heroin), so it's easier to smuggle and transport.5 You can't see it, taste it or smell it, so fentanyl contamination in both opioids and non-opioids is virtually impossible to detect.3 In a recent string of 500 suspected fentanyl poisonings in St. Louis, for example, more than half of the people did not know what they were taking.18
Taking an illicit substance without knowing if it contains fentanyl or not is risky, to say the least. Adding to the danger is how quickly fentanyl can cause an overdose.19 Unlike a heroin overdose, during which a bystander might have as long as 3 hours to administer naloxone and revive the person, fentanyl poisoning can set in within seconds to minutes.19,20
For people taking prescription fentanyl, overdose risk factors include not taking it as prescribed (such as taking it at higher doses or using it more frequently than needed).21
Other risk factors for fentanyl overdose include:21
Mixing fentanyl with other illicit substances, such as benzodiazepines, alcohol, cocaine and methamphetamine
Past history of fentanyl overdose
Taking fentanyl again after a short period of not taking it
Low or no tolerance to opioids
Combining fentanyl with certain prescription drugs, including prescription opioids
Purchasing and using illicitly manufactured fentanyl
Using a substance that may contain fentanyl without others nearby to intervene, if needed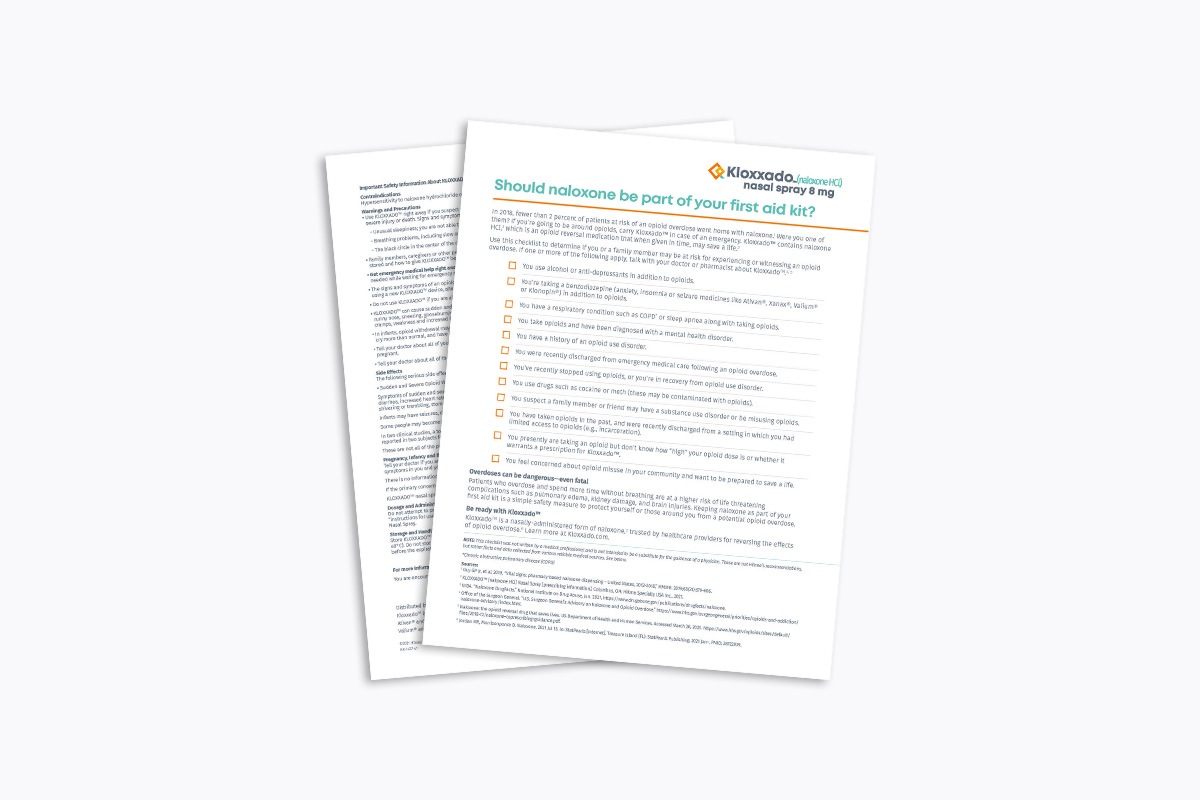 Who Should Carry Kloxxado®
Wondering if naloxone should be part of your first aid kit? This checklist will help you decide.
Kloxxado® and synthetic opioid overdose reversal
Because fentanyl is so powerful, an overdose can set in within minutes or even seconds.19 Overdose reversals with fentanyl also often tend to involve multiple doses of naloxone.19,23 As in all cases of opioid overdose, it's important to reverse the effects of the drug and get the person breathing again as quickly as possible.24 Average time for EMS to arrive on the scene is 7 minutes, but permanent brain damage can occur after just 4 minutes without oxygen.24,25
Overdoses involving increasingly powerful opioids like fentanyl, fentanyl analogs and nitazenes may call for a stronger form of naloxone. Kloxxado® (naloxone HCl) nasal spray 8 mg delivers twice as much naloxone per dose as Narcan® (naloxone HCl) Nasal Spray 4 mg.6,26
During an opioid overdose, every moment matters. Whether you are concerned about a loved one who suffers with substance use disorder or have children or teens who might be influenced to experiment with drugs, it's time to talk about synthetic opioids and Kloxxado®.6
How to use Kloxxado®
Anyone can administer Kloxxado® in just 4 steps:6
Once Kloxxado® has been given, call 911. Kloxxado® nasal spray is not a substitute for emergency medical care.6
Ideally, emergency medical services (EMS) will arrive before a second dose of Kloxxado® is needed. If the victim has not responded after a few minutes and EMS still has not arrived, however a second dose of Kloxxado® may be necessary. This might happen in the case of a fentanyl overdose, or if the naloxone wears off before the opioids do.6
You can administer additional doses of Kloxxado® every 2 or 3 minutes (in alternating nostrils) if the overdose victim does not respond, responds insufficiently or loses consciousness.6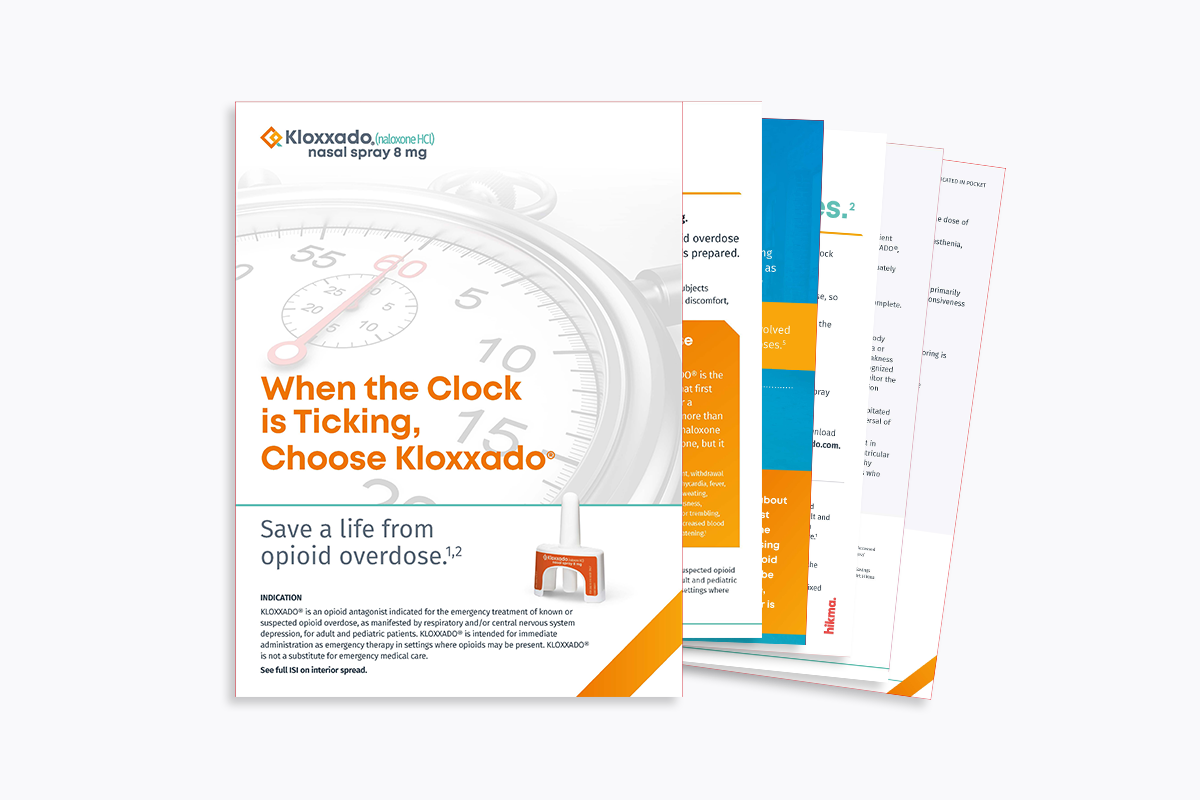 Kloxxado® Patient Brochure
Read about the key benefits of Kloxxado® nasal spray.
Fentanyl and overdose FAQs
What happens if you give Kloxxado® to someone who is not on opioids?
Editor
2023-07-15T11:23:14+00:00
Naloxone, the medicine in Kloxxado®, works only if a person has opioids in their system.*† It has no effect if opioids are not present.† Administering naloxone is unlikely to harm someone, but it could save their life if they are experiencing an opioid overdose.†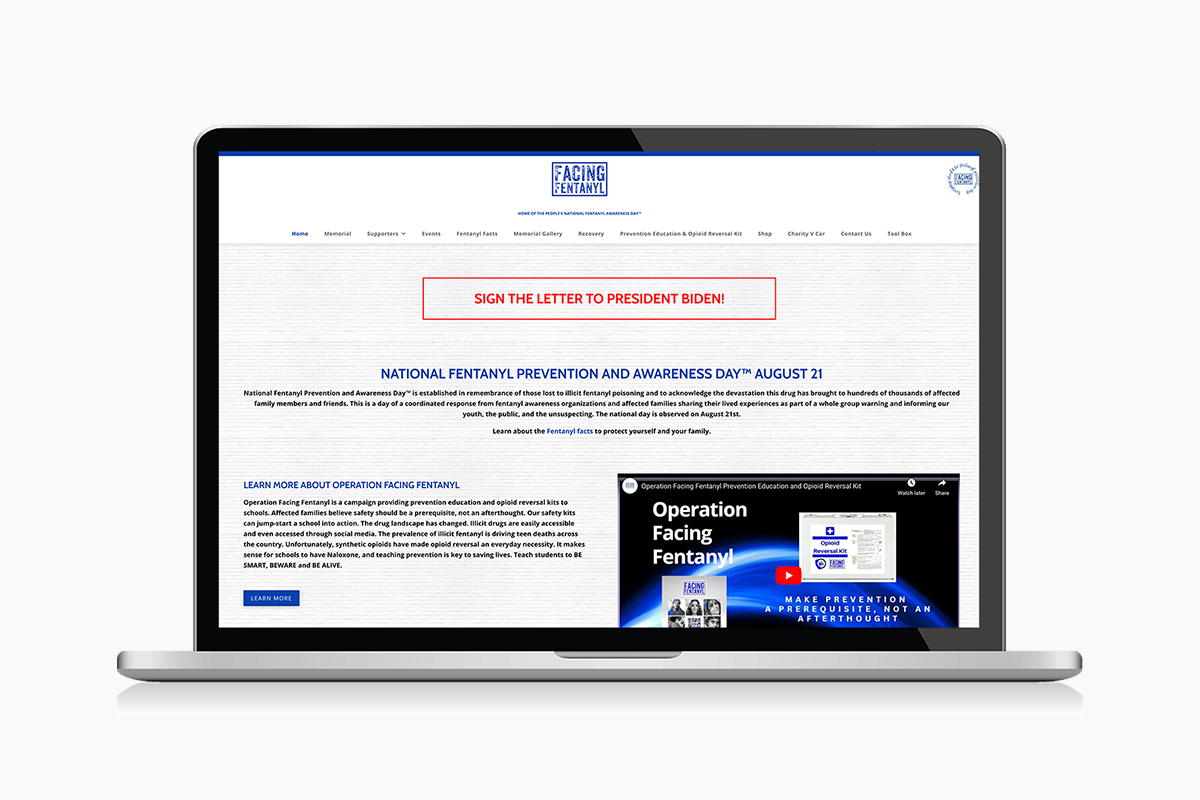 Facing Fentanyl Now
Learn how families are working together to help their kids be safe from illicit fentanyl poisoning.