What is Kloxxado® (naloxone HCl) nasal spray 8 mg?
Kloxxado® can help save a life from opioid overdose
Kloxxado® is a nasally-administered form of naloxone, trusted by healthcare providers for reversing the effects of opioid overdose as a bridge to emergency medical care.1
Since an opioid overdose can happen anywhere, Kloxxado® is designed to be used by anyone, in any situation – with no medical training required beyond the Instructions for Use.1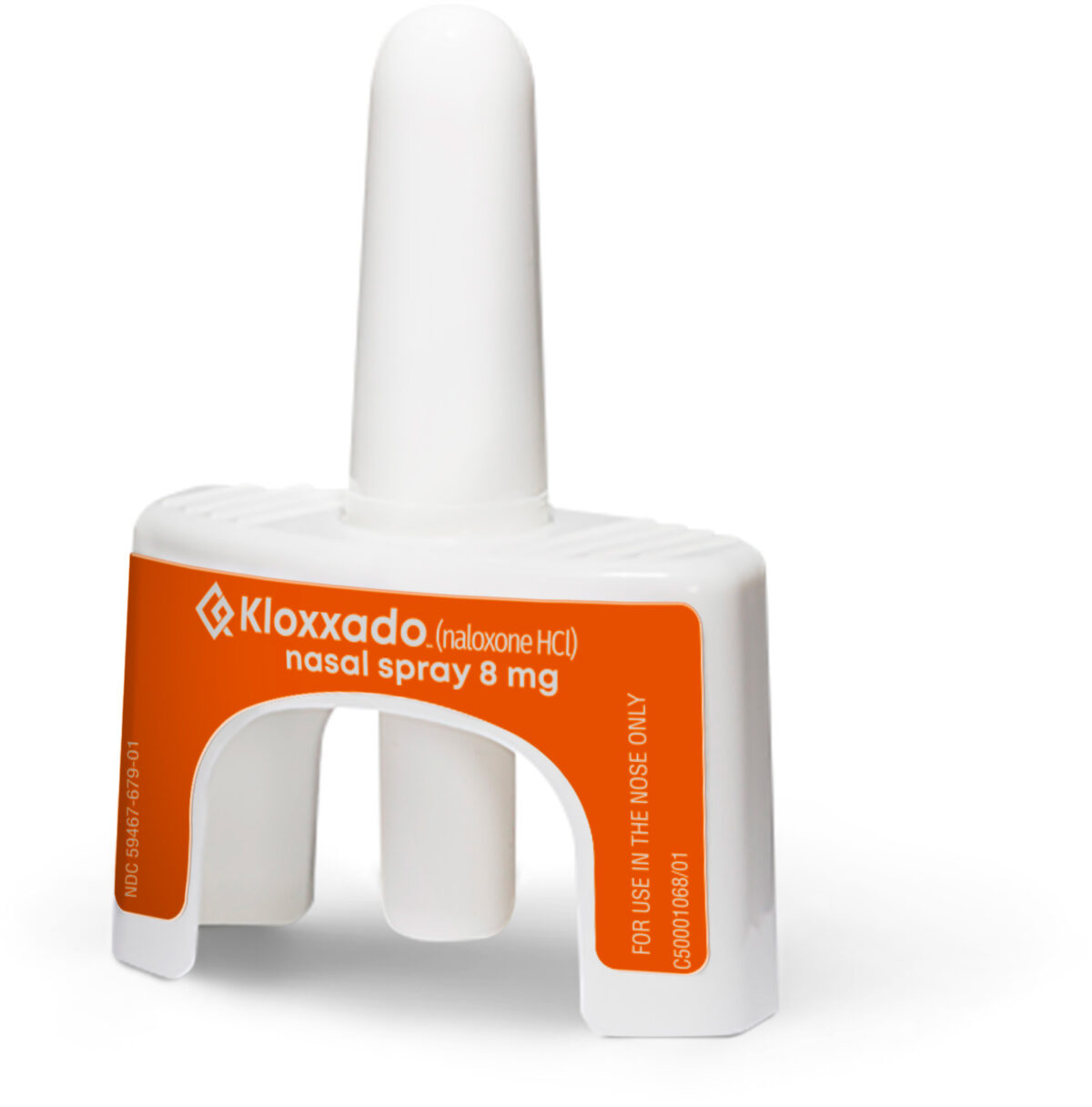 Kloxxado® puts more medicine to work
Kloxxado® contains twice as much medicine per spray as Narcan® (naloxone HCl) Nasal Spray 4 mg.1,2
34% of opioid overdoses required 2+ doses of naloxone3
More potent opioids, like fentanyl, may require multiple doses of naloxone to counteract4
A patient's breathing may slow or stop again if opioids outlast the effects of medicines used for opioid overdose
reversal2
Who should carry Kloxxado®?5
Kloxxado® nasal spray was developed for first responders, as well as family, friends, and caregivers of individuals who might be at risk for an opioid overdose.
Even when opioids are appropriately prescribed, some people's risk for accidental overdose could be higher if:6
they're taking a benzodiazepine (certain anxiety, insomnia or seizure medicines)
they have a respiratory condition like COPD or sleep apnea
they're currently in recovery for or have a history of substance abuse disorder (SUD)
they're being treated for mental illness
the opioids being taken are either chronic or high-dose
If you are prescribed long-term opioids or are at risk of experiencing or witnessing an overdose, ask your doctor about Kloxxado® nasal spray. It's easy to keep on hand as part of your first aid kit.
References
KLOXXADO® (naloxone HCl) Nasal Spray [prescribing information]. Columbus, OH: Hikma Specialty USA Inc., 2021
NARCAN® (naloxone HCl) Nasal Spray [prescribing information]. Plymouth Meeting, PA: Emergent BioSolutions, 2020
Avetian et. al. 2018, "Use of naloxone nasal spray 4mg in the community setting: a survey of use by community organizations," Current Medical Research and Opinion, 34(4):573-576.
NIDA 2021, "Naloxone DrugFacts." National Institute on Drug Abuse, https://www.drugabuse.gov/publications/drugfacts/naloxone, Accessed May 3, 2021.
San Francisco Department of Public Health, "Naloxone for opioid safety. A provider's guide to prescribing naloxone to patients who use opioids," https://www.chcf.org/wp-content/uploads/2017/12/PDF-NaloxoneOpioidSafetyProviders.pdf, Accessed May 3, 2021.
HHS 2018, Naloxone: the opioid reversal drug that saves lives. https://www.hhs.gov/opioids/sites/default/files/2018-12/naloxone-coprescribing-guidance.pdf, Accessed May 3, 2021.
*Maximum value of $40 per box. The Kloxxado® Savings card is not Health Insurance. See complete eligibility and restrictions.