Help your patients survive an opioid overdose
In 2018, drug overdose was the leading cause of accidental death, most involving opioids.1 Yet, less than 2 percent of patients at risk for an overdose received naloxone by prescription.2
Helping your patients stay safe has never been more critical. Kloxxado® (naloxone HCl) nasal spray 8 mg is a new opioid antagonist indicated for the emergency treatment of opioid overdose.3
Just like wearing a seat belt or keeping a fire extinguisher – carrying Kloxxado® is an important safety measure for anyone who takes opioids.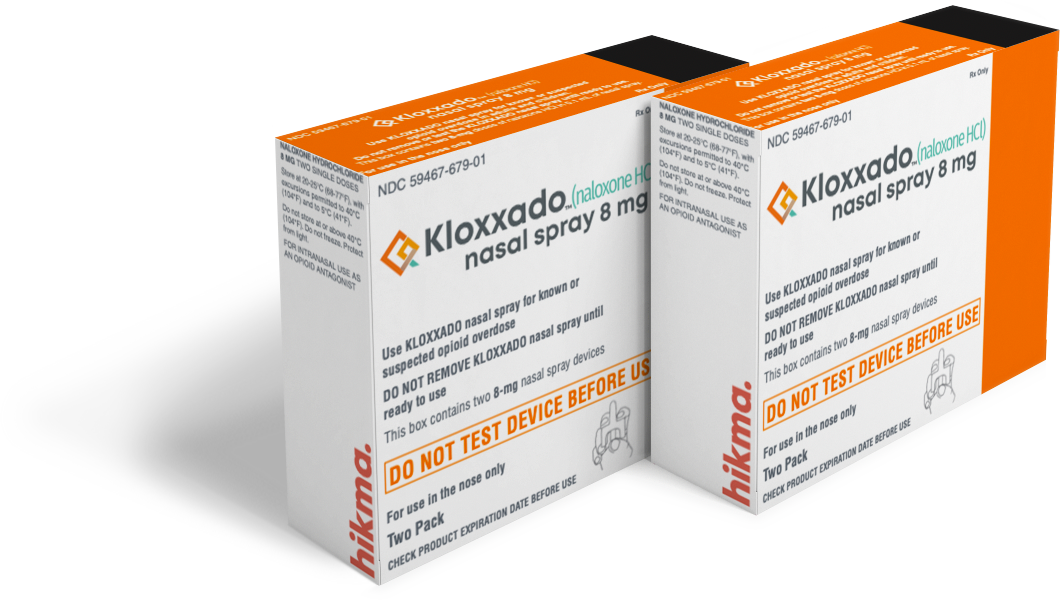 Kloxxado® puts more medicine to work
Because 34 percent of opioid overdose reversals involved at least 2 doses of naloxone,4 Kloxxado® contains twice as much naloxone per dose as NARCAN® (naloxone HCl) nasal spray 4 mg.3,5
Same trusted ingredient in an easy-to-use nasal spray.3,5,6
A simple step to prevent accidental death by opioid overdose.3
Protect against prescription opioid misuse and accidental overdose.8,9
A lifeline to support ongoing treatment and recovery, through risks of relapse.
Which patients need Kloxxado®?
Patients prescribed high-strength or otherwise chronic opioids (e.g., ≥ 50MME/day) are nearly at double the risk of overdose compared to (≤ 20MME/day).7 Download the Kloxxado® Co-RX Guide for more details.
Co-prescribing naloxone is recommended for your patients who are taking opioids and:8,9
At a high strength​ (e.g., ≥ 50MME/day)* or as a long-term therapy
With a benzodiazepine
Have certain respiratory conditions, like COPD or sleep apnea
Have a mental health disorder
Are likely to observe an overdose among family, friends, or caregivers​
* Your state PDMP may have built-in tools to help you assess a patient's MME-associated risks.
How patients can get Kloxxado®
A prescription is required to get Kloxxado®. And with the Kloxxado® Savings Card, patients may pay as little as $0* per box, up to 2 boxes per redemption, up to 4 boxes per month.
How to talk to patients about Kloxxado®
Here are some helpful tips for talking to patients about Kloxxado® and the important role it can play in opioid overdose reversal.
Choose the right language10
The word "overdose" has negative connotations and prescription opioid users may not relate to it. Instead, consider using language like "accidental overdose," "bad reaction," or "opioid safety." You may also consider saying:
Opioids can sometimes slow or even stop your breathing.
Naloxone is for opioid medications like an epinephrine pen is for someone with an allergy.
Naloxone is the antidote to opioids. It's sprayed in the nose or injected if there is a bad reaction where you can't be woken up.
Educate patients on how to use Kloxxado® (naloxone HCl) Nasal Spray
When and how to administer Kloxxado®3
Because naloxone is generally not self-administered, patients should alert others about the medication, how to use it and where it's kept.3
Help patients feel prepared5
Kloxxado® is ready to use. It should not be primed or tested prior to use.
There are two sprays in each box. The person administering should give one dose first and wait 2-3 minutes. The second device is there in case either the first dose is insufficient or the patient re-narcotizes.
Kloxxado® is a unit-dose device. A single actuation of the device releases the entire dose to the patient who is experiencing an overdose. The device cannot be re-used.
As with any naloxone product, the patient receiving the medicine may experience withdrawal symptoms if there are opioids in their system.
What if my patient might have substance use disorder?
Anyone using opioids, whether for recreational purposes or otherwise, can be at risk for overdose. Naloxone is a safe and effective antidote to opioid overdoses, including those involving fentanyl.11
Kloxxado® is also a safety net for people in recovery.12 Once they're on the path to recovery, they may have a diminished tolerance to opioids. Because of this, an individual in recovery who relapses on their previously "normal opioid dose" has a risk of experiencing an overdose.8,9
Talk to your patients about their risks and prescribe them Kloxxado® so they can be prepared.8,9
References
National Safety Council, "Addressing the Opioid Crisis." https://www.nsc.org/home-safety/safety-topics/opioids, Accessed May 3, 2021.
Guy GP Jr, et al. 2019, "Vital signs: pharmacy-based naloxone dispensing – United States, 2012-2018," MMWR. 2019;68(31):679-686.
KLOXXADO® (naloxone HCl) Nasal Spray [prescribing information]. Columbus, OH: Hikma Specialty USA Inc., 2021
Avetian et. al. 2018, "Use of naloxone nasal spray 4mg in the community setting: a survey of use by community organizations", Current Medical Research and Opinion, 34(4):573-576.
NARCAN® (naloxone HCl) Nasal Spray [prescribing information]. Plymouth Meeting, PA: Emergent BioSolutions, Inc.; 2020
Jordan, M.R. and Morrisonponce, D. 2021, "Naloxone." StatPearls Publishing, https://pubmed.ncbi.nlm.nih.gov/28722939/, Accessed May 3, 2021.
Frieden et. al. 2016, "CDC Guideline for Prescribing Opioids for Chronic Pain – United States,". MMWR, 65.
CDC 2016, "CDC Guideline for Prescribing Opioids for Chronic Pain," https://www.cdc.gov/drugoverdose/pdf/Guidelines_At-A-Glance-a.pdf, Accessed May 3, 2021.
HHS 2018, "Naloxone The Opioid Reversal Drug that Saves Lives," https://www.hhs.gov/opioids/sites/default/files/2018-12/naloxone-coprescribing-guidance.pdf, Accessed May 3, 2021.
San Francisco Department of Public Health 2017, "Naloxone for opioid safety. A provider's guide to prescribing naloxone to patients who use opioids," https://www.chcf.org/wp-content/uploads/2017/12/PDF-NaloxoneOpioidSafetyProviders.pdf, Accessed May 3, 2021.
HHS 2019, "Non-fatal opioid overdose and associated health outcomes," https://aspe.hhs.gov/reports/non-fatal-opioid-overdose-associated-health-outcomes-final-summary-report-0, Accessed May 3, 2021.
Office of the Surgeon General 2016, "Facing Addiction in America: The Surgeon General's Report on Alcohol, Drugs, and Health. Washington, DC": HHS.
*Maximum value of $40 per box. The Kloxxado® Savings card is not Health Insurance. See complete eligibility and restrictions.